Animated Avatars






Old school game avatars taken from our Spectrum emulator, edited and animated:
the intro to Michael Jackson's Moonwalker, Dizzy from Magicland Dizzy,
and celebrations from Daley Thompson's Decathlon.




X-rated action from 8 Mile, with Brittany Murphy and Eminem ;)




Myleene Klass taking a shower in the jungle.




Matt Willis stuck in the jungle in 2006.




Arnie being harassed by a reindeer in Jingle All The Way :)




JoJo (Catherine Ayers) gets bent over a desk in Cowbois Ac Injans :)






Cez (Mared Swain) and Manny (Geraint Todd) in series two of Cowbois Ac Injans.




Cristiano bashing his bongos :)




Daniela Denby-Ashe making an entrance in My Family.




Katee Sackhoff in Bionic Woman - smoking and sucking on a beer! ;)




Corey Taylor hot, sweaty and half naked from Stone Sour's Made Of Scars video. Phwoar! ;)





Hayley Williams from Paramore's Emergency video, looking adorable! :)





Snow White from Rammstein's Sonne music video.





Cristiano Ronaldo hot and sweaty after a match! ;)





The final shot from Infernal's Self Control music video.




Jennifer Aniston in Friends




Fergie's Fergalicious vid




A Mischa Barton avatar made for a ABC (Avatar & Banner Combo) challenge




Rihanna's SOS video - great song, great video, and it made a nice avatar too!




This is my first Animation Shop avatar, taken from Avenged Sevenfold's
Beast and the Harlot video.The first time I saw this video I thought
it was begging to be turned into an animation!






The many faces of Ralf Schumacher!
A funny first avatar, and then a second to prove he does smile!





This was my first attempt at an animated avatar, made in Photoshop and Image Ready,
made for a cartoon themed challenge. I caught the animating bug then though!

Banners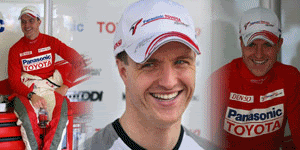 Ralf Schumacher - a mix of blends made in Photoshop, with a nice animated star effect!